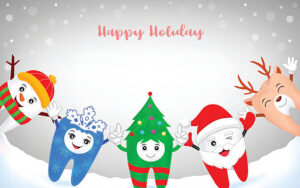 During the holiday time of year, it's easy to get caught up in celebrating and let our routines slip. Keep these dental care tips in mind to end the holidays with the healthy smile you started them with.
1.Stick with your oral hygiene routine, it's especially important during the treat-heavy holidays
2.Schedule a post-holiday checkup and cleaning to be sure you're starting the new year clean and cavity-free
3.Protect your teeth during winter sports with a mouth-guard and avoid opening packages with your teeth to prevent chips or breaks
4.Be sure to drink more water, particularly after meals or sugary snacks
5.Speaking of snacks, opt for fresh fruits or other healthy treats whenever possible
For many still in school or college, the holiday season is the start of Winter break. This is an excellent time to schedule any necessary dental work such as wisdom teeth extractions or taking care of cavities. Schedule for your child today and send them back to school with a healthy smile. The holidays are a joyful, special time to enjoy with friends and family, and following these tips will help you share a beautiful, healthy smile with loved ones into the New Year.